● To promote, preserve, and manage Jordan's cultural heritage resources in a way that focuses on and gives back to local communities and the people who live in them
●To create and promote interactive activities for communities surrounding archaeological sites so that both domestic and international tourists can connect with and be enriched by the deep cultural history and unique natural landscapes of Jordan
●To equip citizens with a working knowledge of sites within their own country, which translates to a prepared workforce, an increase in tourism, and a platform for cultural exchange
●SCHEP wants to emphasize sustainable development in a way that's beneficial to communities and their preservation
●Each MSE addresses important issues, including threats to the archaeological sites like environmental disaster or vandalism . This is important to address because these threats put cultural and natural heritage at great risk.
●Poverty in the surrounding communities stems from a lack of job opportunities for the millions of Jordanians, as well as refugees whose presence has made job opportunities scarce and more competitive
●SCHEP seeks to empower local communities by giving them the tools to conserve their cultural heritage and identity in a sustainable way that stimulates the local economy
●Engaging local communities so that the members can act as agents of their own development
●Formalizing connections between cultural/natural heritage resources and institutions that focus on youth development towards awareness of the unique importance of the Jordanian area
●Promoting tourism as a means of curating education, constructive and accurate narratives about the local communities, and economic opportunities
●With SCHEP's aid, the historically significant and culturally rich village of Busayra is working on growing into the sustainable tourism sector as they undergo extensive capacity building, including training and education.
●They have established Jordan's first Heritage Lab, adjacent to the archaeological site of the Busayra Castle. This site has been cleared, allowing a trail to be built through it, accompanied by interpretation materials and a 60-meter long mural summarizing the historical events which took place in Busayra.
●Services, including calligraphy and mosaic art, are brought to schools in order to raise awareness in the community. Their work has come far and will continue to make great strides in the community, bringing Busayra's name to a national level and assisting the village in it's growth and success.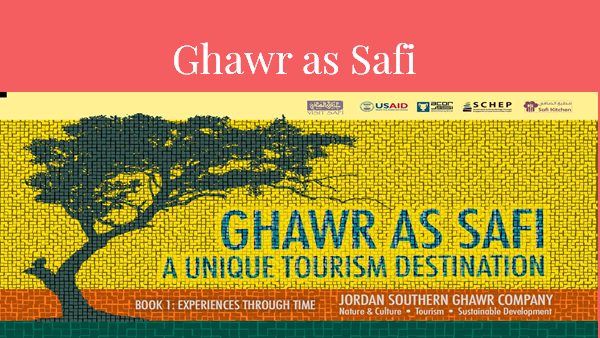 ●SCHEP supports the Jordan Southern Ghawr Company in the curation of authentic experiences that encourage visitors to participate in local cultural experiences while increasing awareness of the area's cultural and natural heritage among community members.
●Skill-related training for unemployed youth in the local community which focuses on conservation of mosaics, archaeological site clearance and management, and museum care as well as proper collection, storage, and preservation of artifacts.
● These experiences provide employment opportunities for the people of Jordan, especially women who are unable to work in male-dominated sectors. They also allow for tourist to gain access to natural and cultural heritage that is unlike any where in the world!
●Aqaba is a historical and beautiful city in Jordan. It has a rich history as a trading destination and port and is also a landmark area for wonderful cuisine, and provides the opportunity for a unique intercultural exchange experience with local community members!
●Instead of just seeing sights, tourists will be engaged with local communities, learn about their culture and heritage, and this sustainable tourism will stimulate the local economy by providing employment to Jordan residents.
● This program focuses on reviving the heritage of the area and conserving it, which creates unique, long-lasting cultural experiences for tourists and generates revenue for economic development.
"The Story of Cultural Sustainability Through Collaboration with SCHEP and Community-led Micro-to Small Enterprises throughout Jordan" by SUNY Global Commons is licensed under CC BY 4.0